Calling All A&Ps and IAs!
You can now install Garmin EIS systems in half the time! Midwest Panel Builders' EIS Quick Kits are designed to get your customer back in the air faster and with the confidence that only Midwest Panel Builders can bring.
More Than Just a GI 275
Our EIS Quick Kits come with all of the units and sensors you selected AND professionally made wiring harnesses allowing for the easiest installation possible. As an added bonus, customers who have purchased our quick kits get to take advantage of unparalleled support including easy-to-follow installation guidance and templated return-to-service paperwork.
GEA 24 Harness Features
Human-Readable Labeling
Power/Ground
RS-232
EGT/CHT Type-K Wires (12ft)
Ammeter and Battery Shunt w/ fuses pre-installed
Bus and Battery Volts w/ fuses pre-installed
Oil Pressure
Oil Temperature
2-ft leads w/ connectors for following add-on sensors:
Fuel Pressure
Fuel Flow
Manifold Pressure
Tachometer
Carb Temp
Turbine Inlet Temp
Outside Air Temp
Fuel Level

Resistive (Compliant with Garmin AD)
Digital/Voltage

Detailed wiring diagrams
GI 275 Harness Features
Human-Readable Labeling
Power/Ground
Lighting Bus
Ethernet
RS-232 (GEA 24 and GNS 4XX/5XX)
Annunciators
USB Maintenance Port
Product/Installation Documentation Provided
MWPB Installation Guideline/Checklist
Template FAA 337 Form
Template Logbook Entry
All STC Documentation
Installation Manual
Maintenance Manual
Pilot Guide
Flight Manual Supplement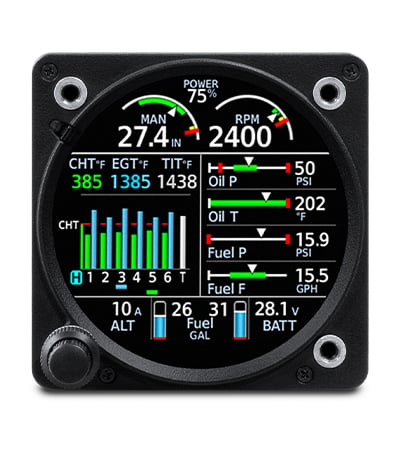 Engine Information System
With optional interface module and sensors, GI 275 can serve as a primary EIS display for piston engine, fuel, electrical and other data. Display space is optimized with bar graphs, bar gauge indications and numerical readouts. Use dual GI 275 displays to monitor twin-engine aircraft.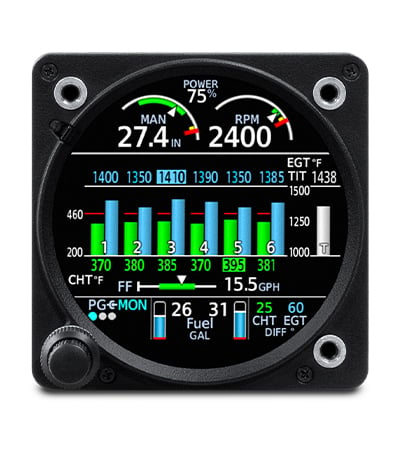 EGT/CHT Monitoring
Graphical display of cylinder head and exhaust gas temperatures allows you to pinpoint the optimal fuel/air mixture for efficient power management.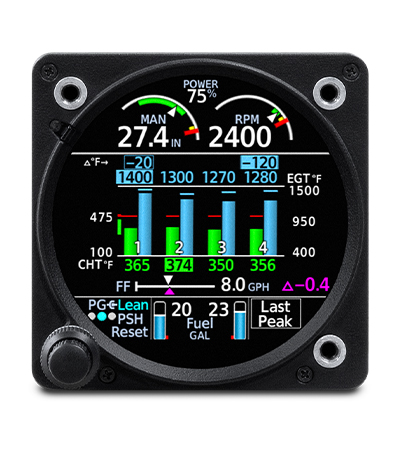 Lean Assist Mode
This function of the Garmin EIS automatically checks the EGT of all cylinders and identifies your preferred rich/lean setting to balance efficiency and performance. Normalized mode is also available.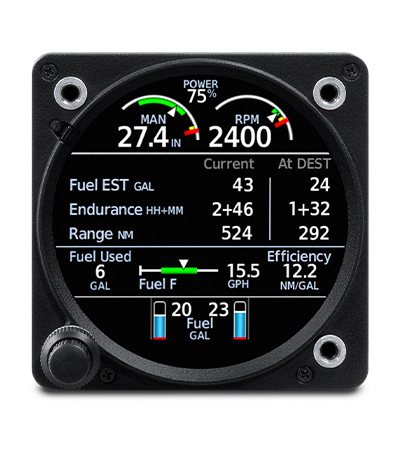 Integrated Fuel Computer
In addition to fuel quantity, the Garmin EIS monitors fuel flow and GPS information to estimate how much fuel, range and flight time you have left to go at current settings.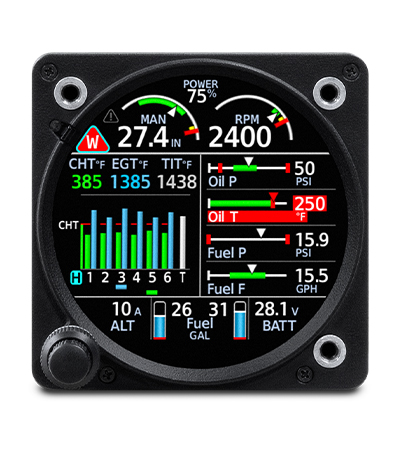 Exceedances Alerting
With EIS on your GI 275, color-coded pilot alerts/advisories help maintain engine performance and safety. Flashing cues quickly identify out-of-limit exceedances.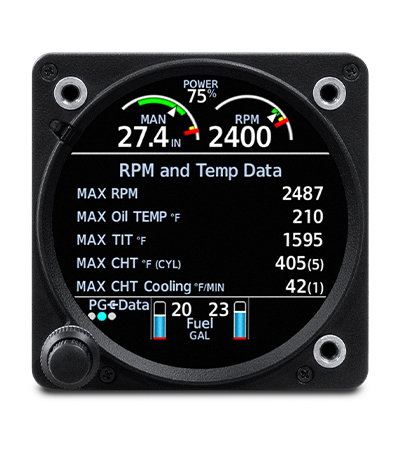 Flight Summary Data
See aircraft timers, max RPM/temperatures as well as fuel and lean data updated dynamically throughout each flight on the flight summary page — then review after landing.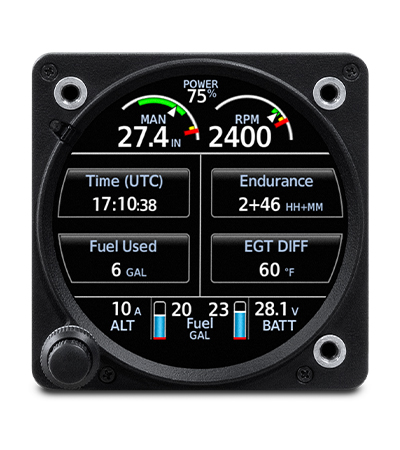 User-Selectable Fields
Customize the auxiliary page with the additional EIS information relevant to your flight — including fuel used, UTC time, ground speed, range and more.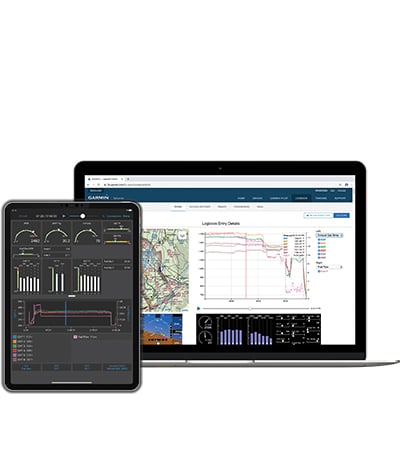 Automatic Data Logging
EIS data on the GI 275 electronic display is automatically logged and available for wireless Connext® streaming to your mobile device — with automatic cloud storage in the flyGarmin.com® website.